The Man, The Myth... The Real Estate Instructor
Get to know the guy in the front of the room.
BRIAN PATE – REALTOR®, Real Estate Instructor
Brian Pate has been a well-respected real estate professional for 30 years. During his time in the business, he has served as an agent, manager, instructor, coach and trainer for over 20,000 real estate students. In addition, the teams he has managed and coached have produced over $2 billion in real estate sales under his leadership.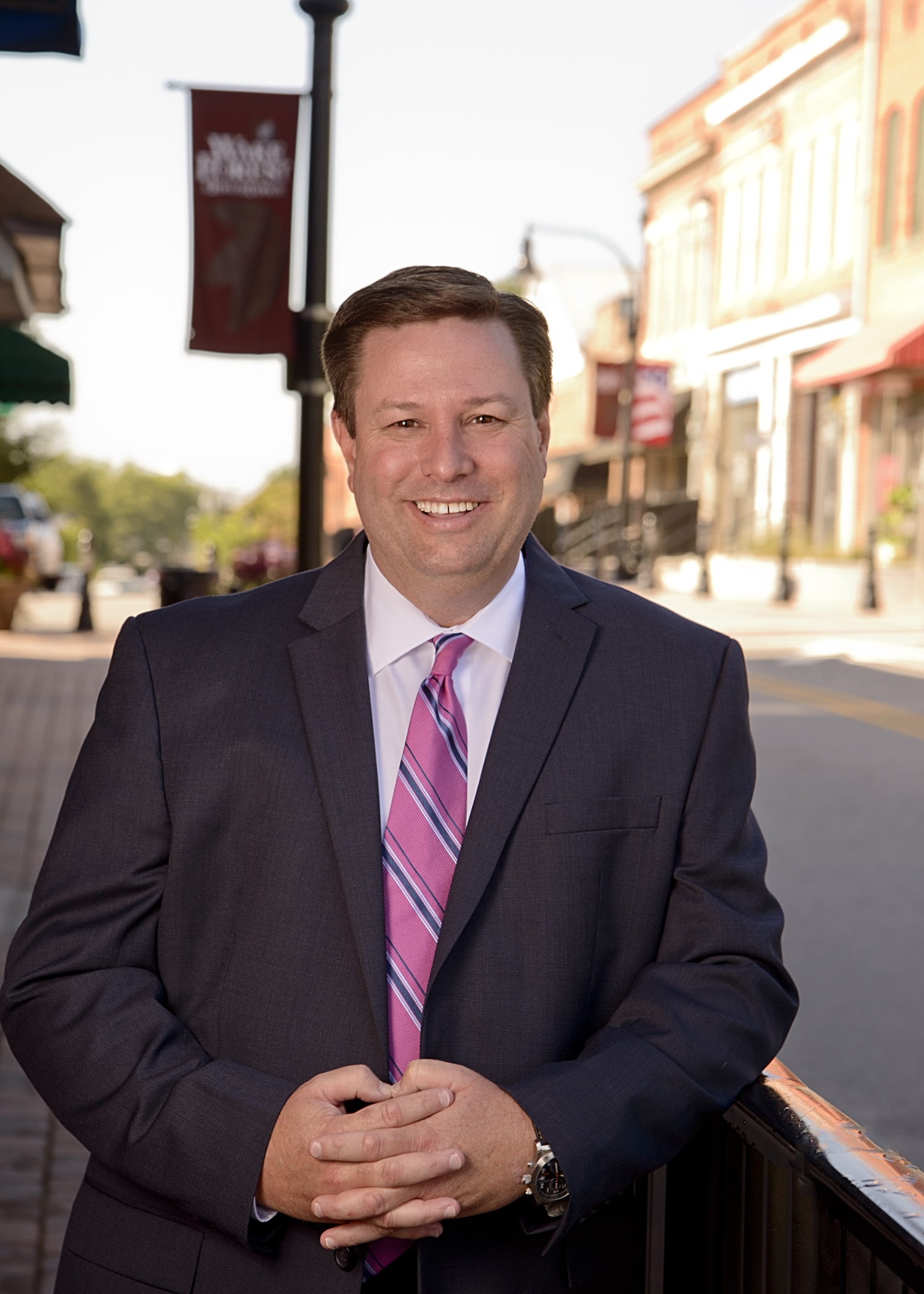 Brian Pate in Downtown Wake Forest, North Carolina
Since 1993, Brian Pate has been an integral part of the real estate scene in central North Carolina. Based in Wake Forest for over 25 years, he has seen massive growth in the area and experienced three recessions, as well as rate fluctuations from 16%, down to less than 3% and back up to 6%. He also continued to sell real estate and teach during the Covid-19 pandemic from March of 2020 through 2022 as lock down and masking orders were eliminated.
His early days of real estate sales began on August 2, 1993 when he joined Fonville Morisey, at the time the #1 independent real estate firm in the Triangle region and one of the top 50 independent real estate companies in the United States.
Other than a 2.5-year stint at Coldwell Banker, Pate was with Fonville Morisey from 1993-2012 when he left management to get back into sales. In 2012, he established Brian Pate Seminars to continue teaching in addition to selling real estate. In 2014, he set a goal to create one of the top 100 team in the Triangle Multiple Listing Service (TMLS) within 5 years.
In 2017 and 2018, that goal was reached with the help of some fantastic teammates that averaged over $25 million per year in real estate sales. Also, during those two years, Brian taught over 5,000 students in real estate classes and began coaching other agents to help grow their business.
Brian served two stints as CEO/Team Leader at Keller Williams Preferred in Raleigh, NC and during that time, the office became the #1 listing office in the Triangle MLS.
Today, Brian continues to sell real estate, write classes and teach on a regular basis. He also runs a coaching program for new, experienced and top producing agents in addition to teaching regulatory and training classes.
He lives in Wake Forest, North Carolina with his wife Kirke. Together they have four children between the ages of 19 and 23. They also have three dogs; a coonhound, a black lab and a yellow lab. They love to travel and have a slight obsession with baseball, with a goal of seeing a game at every Major League Baseball stadium in the next 10 years.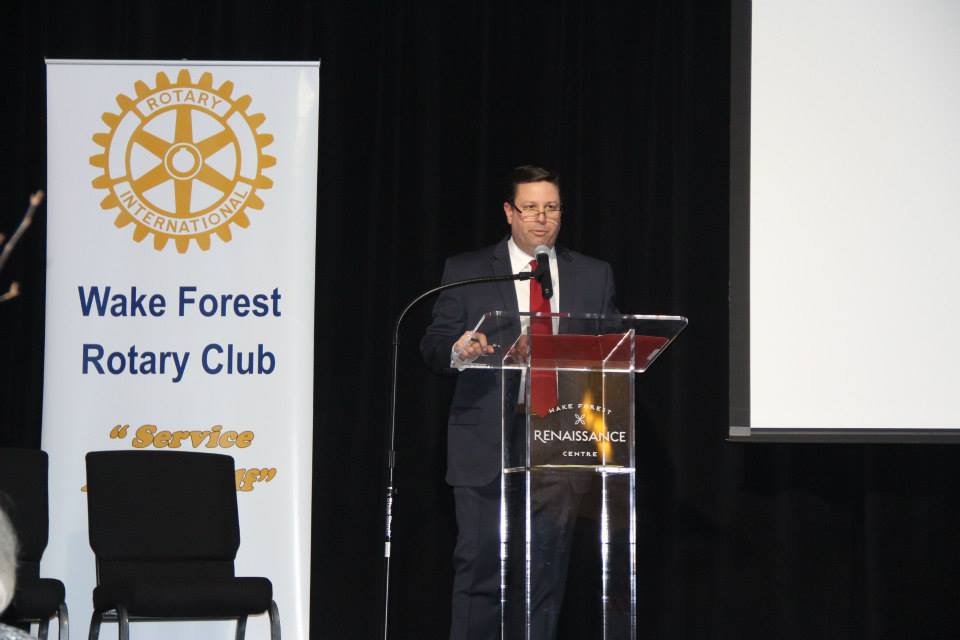 Brian Pate speaking at the Wake Forest Rotary Club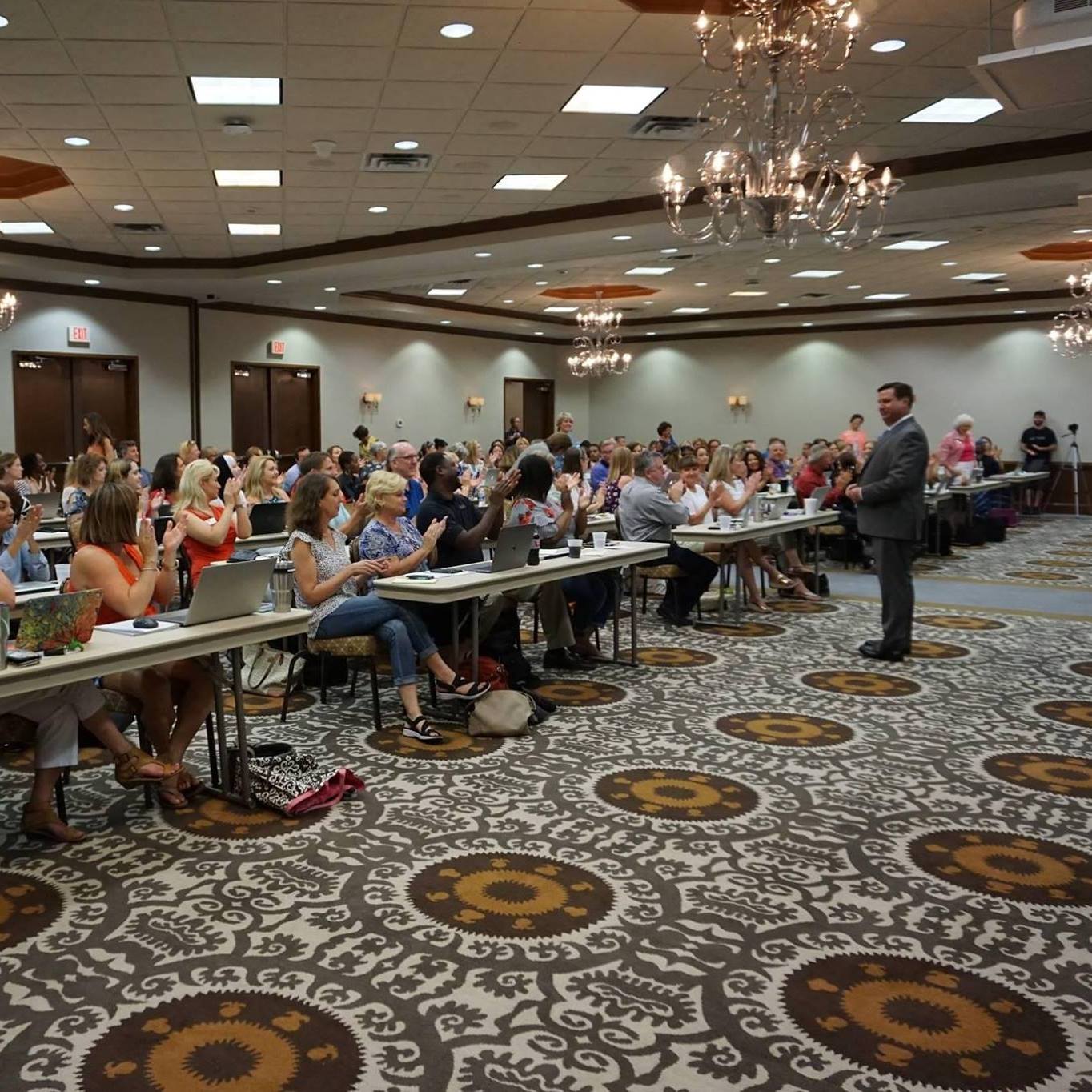 Brian Pate teaching at RARR (Raleigh Regional Association for Realtors)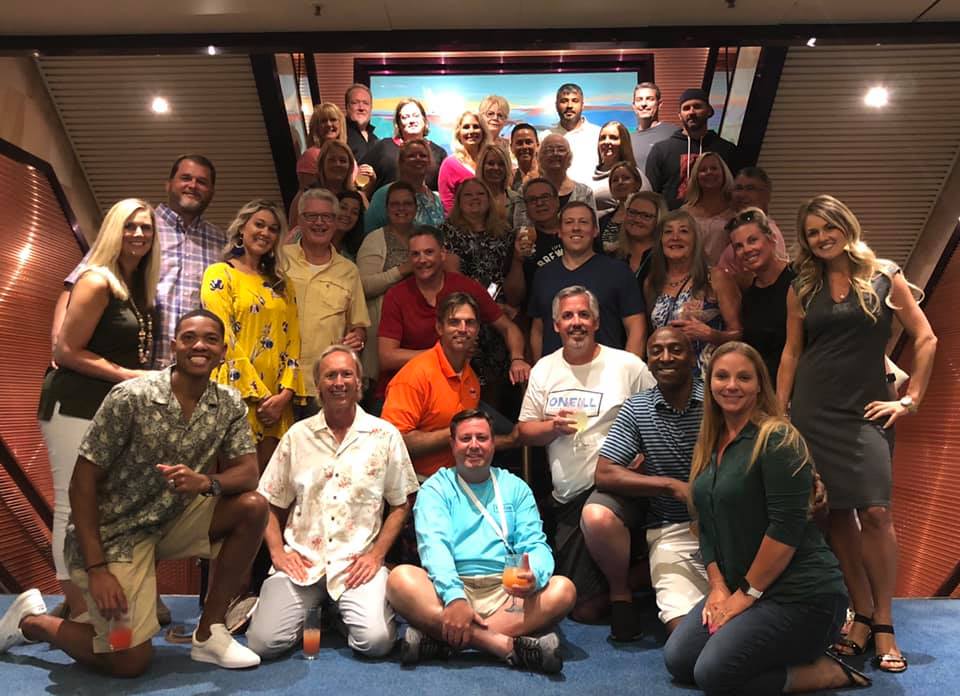 Brian Pate teaching on a cruise ship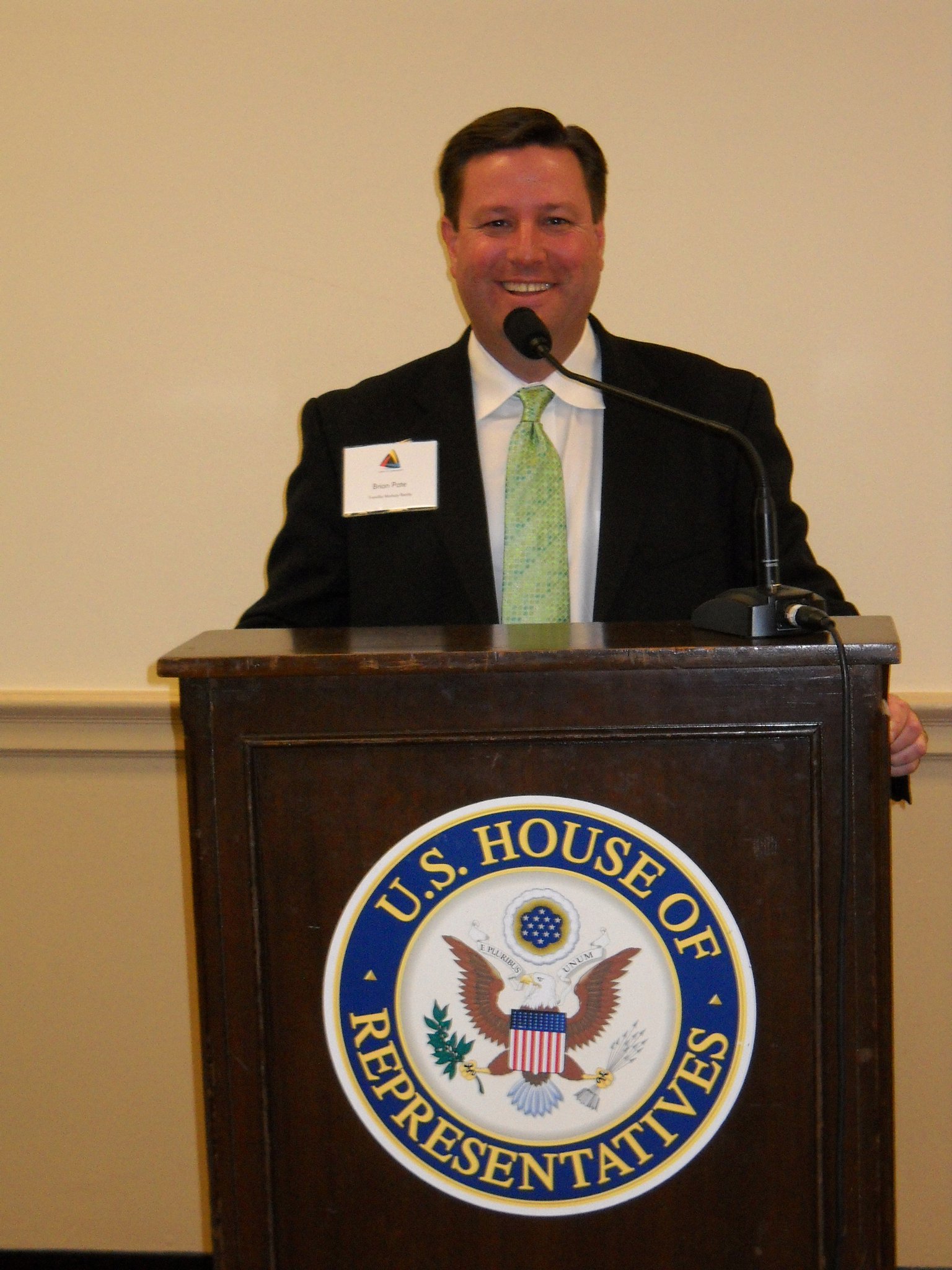 Brian Pate at the U.S. House of Representatives
Awards and Recognitions:
2020-2021 President- North Carolina Real Estate Educators Association
2018 Keller Williams Realty – Platinum Award for Sales Production
2018 Wake Weekly – Best Real Estate Broker
2017 Keller Williams Realty – Platinum Award for Sales Production
2016 Keller Williams Realty – Quadruple Gold Award for Sales Production
2015 Keller Williams Realty – Quadruple Gold Award for Sales Production
2014 Keller Williams Realty – Gold Award for Sales Production
2013- 2014 President- North Carolina Real Estate Educators Association

2012 Wake Weekly- Best Real Estate Broker

2011 Wake Weekly- Person who best exemplifies Wake Forest

2011 Nominee for Wake Forest Citizen of the Year

2006 Triangle Business Journal 40 Under 40 Hall Of Fame

1992 National Shag Dance Championships 2

nd

 Place- Non professional division

9 time nominee for North Carolina DJ of the Year

5 time nominee for Southeast Region DJ of the Year
Other Memberships:
Wake Forest Masonic Lodge #282 since 2005

Rolesville Chamber of Commerce since 2006

Wake Forest Chamber of Commerce since 1998
Volunteer Work:
Heritage High School

Wake Forest Middle School

Heritage Middle School

Wake Forest Elementary School

Wake Forest Chamber of Commerce (Board member 2000-2007 and 2007-2015)

Trentini Foundation Board of Directors (2014-2017)

Braden Rock Memorial Scholarship (started in 2014)

YMCA We Build People Campaign (2013-2015)

Keller Williams KW Cares (2012-2018)

Keller Williams Realty Red Day

Relay For Life (Past event chair, co-chair and event manager)

Wake Forest Birthplace Museum

Wake Forest Boys and Girls Club

German Shepherd Rescue and Adoptions (7 years)

Wake Forest Downtown Revitalization Corporation (13 years)

Wake Forest 4

th

 

of July Committee (21 years)
NUMBER OF AGENTS IN NC BRIAN TEACHES PER YEAR
In Real Estate sales through teams Brian has managed
General Update
4 hours of Update CE Credit for the 2022-2023 license year. Topics include: WWREA Disclosure, Racial Equity, Broker Fiduciary Duties, Laws and Rules updates and Licensing and Education Updates.
Broker-In-Charge Update
4 hours of Update CE Credit for the 2022-2023 license year. Topics include: WWREA Disclosure, Racial Equity, Broker Fiduciary Duties, BIC Best Practices Guide, Laws and Rules updates and Licensing and Education Updates.
Ethics Course
This course qualifies for 4 hours of continuing education credit from the North Carolina Real Estate Commission and qualifies for the 2.5 hours of Ethics training required by the National Association of Realtors.
Business Planning Clinic
Take your business to the next level in 2022. We'll study will study the difference between marketing, advertising and promotion. We will discuss financials, pros and cons of different business entities, and more. 
Relevant and Effective
"After nearly a decade in this industry and 175 transactions, I've found Brian's approach to be far more relevant and effective than any other instructor in my career. Aside from an enjoyable and interactive learning environment, Brian's real world experience definitely breaks the stereotype of 'those who can't do, teach.'"
Jordan Lee
Principal - Nest Realty, Raleigh - Durham - Chapel Hill, NC
Worthy of Trust
"Brian is consistently an exceptional performer, worthy of trust and a gentleman of the first order. I have no hesitation in associating my name with his work."
Nick Long
Terremark, Miami, FL
Expert Real Estate Advice
"I came to know Brian and appreciate his high degree of knowledge, dedication and professionalism. He is the first person I call when I need expert real estate advice."
Fred Gebarowski
Wake Tech, Garner, NC
Motivated
"Regardless of the location and crowd, Brian has never failed to keep the audience motivated and having fun. Without hesitation, I would recommend them."
Stephen Meserve
IBM, Jacksonville, FL
Fun
"Brian and his team go out of their way to make sure that no matter what type of event, everyone is having fun! Brian has been doing this for many years and it shows. We have a blast any time we are at one of his events."
Mica Parekh
IWP Photography, Wake Forest, NC
Professional
"Brian is a professional who is personal. He finds out the needs of your group and accommodates those needs. I have given his name out to many others and would hire him again in an instant should the need arise."
Teesa McKinley
Independent Health and Fitness Professional, Raleigh, NC
Very Effective Motivator
"Brian's enthusiasm is contagious. He leads by example and is a very effective motivator."
Doug Parsons
Clear Channel Communications
State Exam
"He made the class fun, explained the materials and took the time to make sure every student understood. Thanks to Brian I passed my state exam."
Melissa Schartz
Wells Fargo Mortgage, Raleigh, NC
Straight Forward Approach
"Brian's teaching style provides a great jumpstart for anyone entering the real estate industry. His straight forward approach and sheer enthusiasm get all-new agents off on the right foot."
Erin Darnell
English Realty Group, Raleigh, NC
Knowledgable
"Charming, knowledgable, smart, quick- a good teacher and trainier- I highly recommend Brian Pate for any kind of business setting."
Kathy Legnaioli
Fonville Morisey Realty, Chapel Hill, NC